Home>Products>Hydraulic Piston Pump/Motor>A10V O100 DRG/31R-PSC12K02-S0420 Rexroth Axial piston variable pump

English
A10V O100 DRG/31R-PSC12K02-S0420 Rexroth Axial piston variable pump
Rexroth

A10V O100 DRG/31R-PSC12K02-S0420

Germany

CE ISO

Negotiation

contact us

standrd package

5-7 work day

T/T,Western Union

50 pcs
Product Description
Product Description
Material number
Designation
R902403379
AXIAL-PISTON PUMP
AA10VO100DRG/31L-PSC12K68-SO277
R902414770
AXIAL-PISTON PUMP
AA10VO100DRG/31L-VUC12N00-SO628
R902415229
AXIAL-PISTON PUMP
AA10VO100DRG/31R-PSC12K07-SO420
R902416254
AXIAL-PISTON PUMP
AA10VO100DRG/31R-PSC12K68-SO420
R902419761
AXIAL-PISTON PUMP
AA10VO100DRG/31R-VSC12K24-SO420
R902421580
AXIAL-PISTON PUMP
AA10VO100DRG/31R-PSC12K07-SO722
R902425508
AXIAL-PISTON PUMP
AA10VO100DRG/31R-PUC62K07
R902425701
AXIAL-PISTON PUMP
AA10VO100DRG/31R-PUC62K68
R902425736
AXIAL-PISTON PUMP
AA10VO100DRG/31L-PSC12K04
R902426297
AXIAL-PISTON PUMP
AA10VO100DRG/31R-PSC12K07
R902428298
AXIAL-PISTON PUMP
AA10VO100DRG/31R-VUC12K68
R902429248
AXIAL-PISTON PUMP
AA10VO100DRG/31R-VSC43N00-SO420
R902429250
AXIAL-PISTON PUMP
AA10VO100DRG/31L-VSC44K68-SO420
R902430712
AXIAL-PISTON PUMP
AA10VO100DRG/31L-PSC62K04-SO277
R902433538
AXIAL-PISTON PUMP
AA10VO100DRG/31L-PSC12K04E
R902434827
AXIAL-PISTON PUMP
AA10VO100DRG/31L-VSC12K02-SO420
R902435739
AXIAL-PISTON PUMP
AA10VO100DRG/31L-PSC12N00-SO420
R902443179
AXIAL-PISTON PUMP
AA10VO100DRG/31L-VSC12K07-SO277
R902444049
AXIAL-PISTON PUMP
AA10VO100DRG/31L-PSC62K68-SO277
R902444556
AXIAL-PISTON PUMP
AA10VO100DRG/31R-PSC12K68
R902455046
AXIAL-PISTON PUMP
AA10VO100DRG/31R-VWC12K68
R902461379
AXIAL-PISTON PUMP
AA10VO100DRG/31L-VSC12K24
R902461380
AXIAL-PISTON PUMP
AA10VO100DRG/31L-VSC12N00
R902462553
AXIAL-PISTON PUMP
AA10VO100DRG/31R-VUC62N00
R902463620
AXIAL-PISTON PUMP
AA10VO100DRG/31R-VSC62K24
R902463621
AXIAL-PISTON PUMP
AA10VO100DRG/31R-VSC62N00
R902464317
AXIAL-PISTON PUMP
AA10VO100DRG/31R-VTC12K04
R902465670
AXIAL-PISTON PUMP
AA10VO100DRG/31R-VSC12K07
R902466968
AXIAL-PISTON PUMP
AA10VO100DRG/31R-VUC12K68E
R902469433
AXIAL-PISTON PUMP
AA10VO100DRG/31R-VPC12N00M
R902476002
AXIAL-PISTON PUMP
AA10VO100DRG/31L-VSC44K68-SO420
R902479083
AXIAL-PISTON PUMP
AA10VO100DRG/31R-VSC62K04
R902480098
AXIAL-PISTON PUMP
AA10VO100DRG/31L-VSC44K68-S2818
R902483359
AXIAL-PISTON PUMP
AA10VO100DRG/31L-VSC62N00-SO277
R902488052
AXIAL-PISTON PUMP
AA10VO100DRG/31L-VSC62K68
R902490996
AXIAL-PISTON PUMP
AA10VO100DRG/31L-VSC62K24-SO52
R902490997
AXIAL-PISTON PUMP
AA10VO100DRG/31L-VSC62K01-SO52
R902494759
AXIAL-PISTON PUMP
AA10VO100DRG/31R-VSC12K07-SO511
R902500053
AXIAL-PISTON PUMP
AA10VO100DRG/31R-PKC62N00
R902500287
AXIAL-PISTON PUMP
AA10VO100DRG/31L-PUC62N00
R902500500
AXIAL-PISTON PUMP
AA10VO100DRG/31R-PSC62K01
R902500501
AXIAL-PISTON PUMP
AA10VO100DRG/31L-PSC62K01
R902501404
AXIAL-PISTON PUMP
AA10VO100DRG/31R-VSC62K01-SO231
R902506224
AXIAL-PISTON PUMP
AA10VO100DRG/53R-VSD62K16
R902506463
AXIAL-PISTON PUMP
AA10VO100DRG/31R-VSC62K24
R902515004
AXIAL-PISTON PUMP
AA10VO100DRG/31R-VSC11N00
R902520498
AXIAL-PISTON PUMP
AA10VO100DRG/31R-VSC12K68-SO52
R902533915
AXIAL-PISTON PUMP
AA10VO100DRG/31L-VPC12N00M
R902534881
AXIAL-PISTON PUMP
AA10VO100DRG/31R-PSC12K07-SO420
R902534882
AXIAL-PISTON PUMP
AA10VO100DRG/31R-PSC12K07-SO420
R902544793
AXIAL-PISTON PUMP
AA10VO100DRG/31R-PSC12K07-SO420
R902547568
AXIAL-PISTON PUMP
AA10VO100DRG/31R-VSC12K07-SO545
R902554607
AXIAL-PISTON PUMP
AA10VO100DRG/31R-VSC12K68
R902560892
AXIAL-PISTON PUMP
AA10VO100DRG/31R-VSC12K07-SO420
R902560893
AXIAL-PISTON PUMP
AA10VO100DRG/31R-VSC12K07-SO420
R902560894
AXIAL-PISTON PUMP
AA10VO100DRG/31R-VSC12K07-SO420
R902560986
AXIAL-PISTON PUMP
AA10VO100DRG/31R-VSC12K07-SO545
R902560987
AXIAL-PISTON PUMP
AA10VO100DRG/31R-VSC12K07-SO545
R902561358
AXIAL-PISTON PUMP
AA10VO100DRG/31R-VSC12K07-SO420
R902561359
AXIAL-PISTON PUMP
AA10VO100DRG/31R-VSC12K07-SO420
R902561360
AXIAL-PISTON PUMP
AA10VO100DRG/31R-VSC12K07-SO420
R902561361
AXIAL-PISTON PUMP
AA10VO100DRG/31R-VSC12K68-SO420
R902561362
AXIAL-PISTON PUMP
AA10VO100DRG/31R-VSC12K68-SO546
R902562907
AXIAL-PISTON PUMP
AA10VO100DRG/31R-VSC12N00
R902564330
AXIAL-PISTON PUMP
AA10VO100DRG/31R-VSC12N00-SO97
R902564394
AXIAL-PISTON PUMP
AA10VO100DRG/31R-VSC12K24-SO420
R902564660
AXIAL-PISTON PUMP
AA10VO100DRG/31R-VSC12K07-SO420
R902564666
AXIAL-PISTON PUMP
AA10VO100DRG/31R-VSC12K07-SO420
R902564667
AXIAL-PISTON PUMP
AA10VO100DRG/31R-VSC12K07-SO420
R902565329
AXIAL-PISTON PUMP
AA10VO100DRG/31L-VSC12N00-SO420
R902565330
AXIAL-PISTON PUMP
AA10VO100DRG/31L-VSC12N00-SO420
R902565939
AXIAL-PISTON PUMP
AA10VO100DRG/31R-VSC12N00-S5468
R902566092
AXIAL-PISTON PUMP
AA10VO100DRG/31R-VSC12N00-SO420
R902567696
AXIAL-PISTON PUMP
AA10VO100DRG/31R-VSC12K68-SO420
R902567746
AXIAL-PISTON PUMP
AA10VO100DRG/31R-VSC12K07-S5477
R910920757
AXIAL-PISTON PUMP
AA10VO100DRG/31R-PSC12N00
R910928371
AXIAL-PISTON PUMP
AA10VO100DRG/31L-PSC62N00
R910932441
AXIAL-PISTON PUMP
AA10VO100DRG/31R-PSC62N00
R910937723
AXIAL-PISTON PUMP
AA10VO100DRG/31L-PSC62K07
R910941500
AXIAL-PISTON PUMP
AA10VO100DRG/31L-PSC61N00
R910949882
AXIAL-PISTON PUMP
AA10VO100DRG/31R-PSC62K07
R910965857
AXIAL-PISTON PUMP
AA10VO100DRG/31L-VSC62K07
R910967129
AXIAL-PISTON PUMP
AA10VO100DRG/31L-VSC62K68
R910970421
AXIAL-PISTON PUMP
AA10VO100DRG/31R-PUC61N00
R910970665
AXIAL-PISTON PUMP
AA10VO100DRG/31L-VSC12K02
R910976036
AXIAL-PISTON PUMP
AA10VO100DRG/31L-VSC12K02-SO277
R910984018
AXIAL-PISTON PUMP
AA10VO100DRG/31L-PSC12K01-SO679
R910986685
AXIAL-PISTON PUMP
AA10VO100DRG/31L-VSC12K68-SO277
R910987385
AXIAL-PISTON PUMP
AA10VO100DRG/31L-VSC62N00
R910989209
AXIAL-PISTON PUMP
AA10VO100DRG/31L-PSC12K07
R910992296
AXIAL-PISTON PUMP
AA10VO100DRG/31R-PWC62K07
R910992958
AXIAL-PISTON PUMP
AA10VO100DRG/31R-PSC61N00
R910993443
AXIAL-PISTON PUMP
AA10VO100DRG/31R-PUC12K68
R910996193
AXIAL-PISTON PUMP
AA10VO100DRG/31L-PSC62K68
R910996652

AXIAL-PISTON PUMP
AA10VO100DRG/31R-PSC62K68
A10V O100 DRG/31R-PSC12K02-S0420 Rexroth Axial piston variable pump Features
Through drive for mounting of further pumps up to same nominal size
Low operating noise
Long service life
Short control response times
Excellent suction characteristics
2 drain ports
Swashplate design
A10V O100 DRG/31R-PSC12K02-S0420 Rexroth Axial piston variable pump Table of values
Size

18
28
45
71
88
100
140
45
71
100
140

Version

Standard
High speed

Displacement
geometric, per revolution

 

Vg max

cm³

18
28
45
71
88
100
140
45
71
100
140

Nominal pressure

 

pnom

bar

280
280
280
280
280
280
280
280
280
280
280

Maximum pressure

 

pmax

bar

350
350
350
350
350
350
350
350
350
350
350

Maximum speed 1)

at Vg max

nnom

rpm

3300
3000
2600
2200
2100
2000
1800
3000
2550
2300
2050

Flow

at Vg max and nnom

qV nom

l/min

59
84
117
156
185
200
252
135
178
230
287

at Vg max and n = 1500 rpm

qV 1500

l/min

27
42
68
107
132
150
210
68
107
150
210

Power

at qV nom and pnom

P

kW

30
39
55
73
86
93
118
63
83
107
134

at qV 1500 and pnom

P 1500

kW

12.6
20
32
50
62
70
98
32
50
70
98

Torque

at Vg max and pnom

M

Nm

80
125
200
316
392
445
623
200
316
445
623

Weight (approx.)

 

m

kg

12.9
18
23.5
35.2
35.2
49.5
65.4
23.5
35.2
49.5
65.4
| | |
| --- | --- |
| 1) | These values are valid at an absolute pressure of 1 bar in suction port S and for the optimum viscosity range νopt |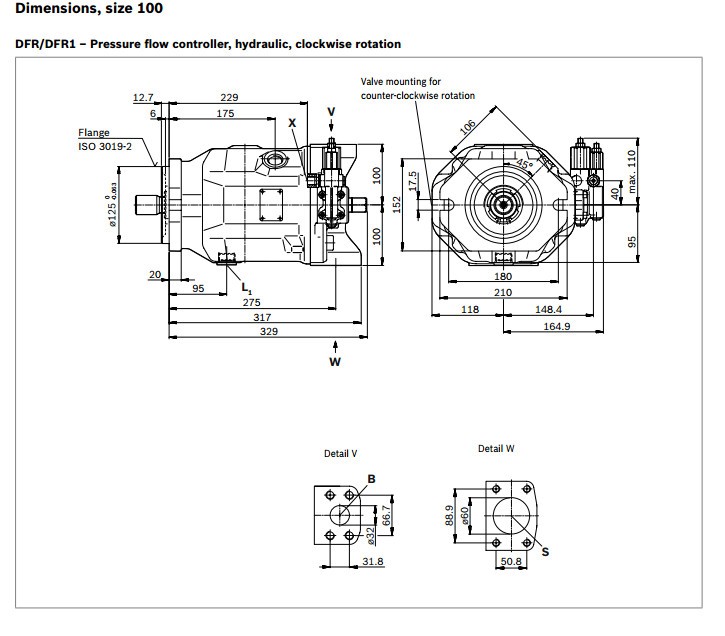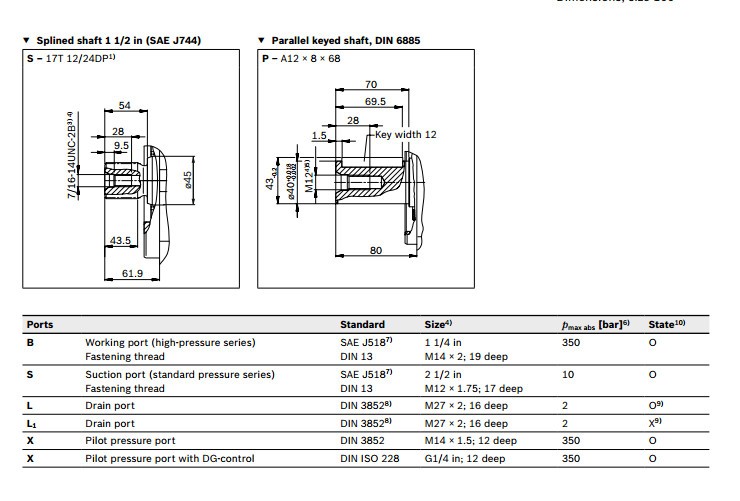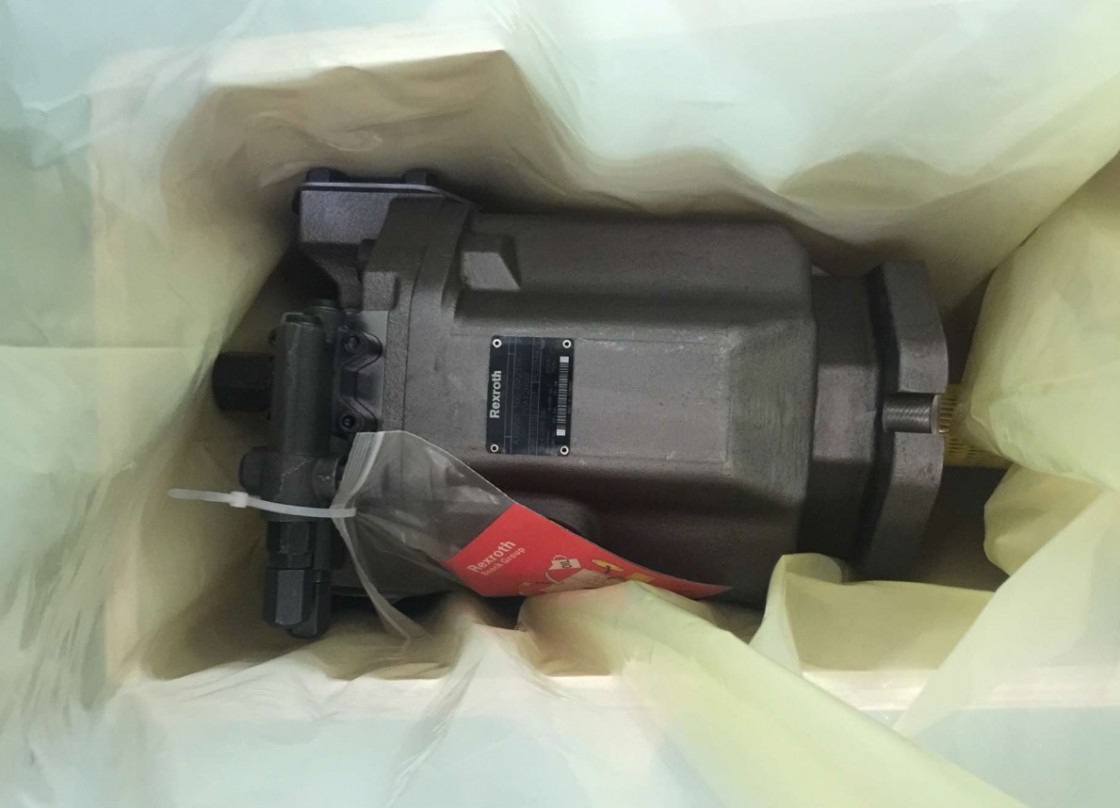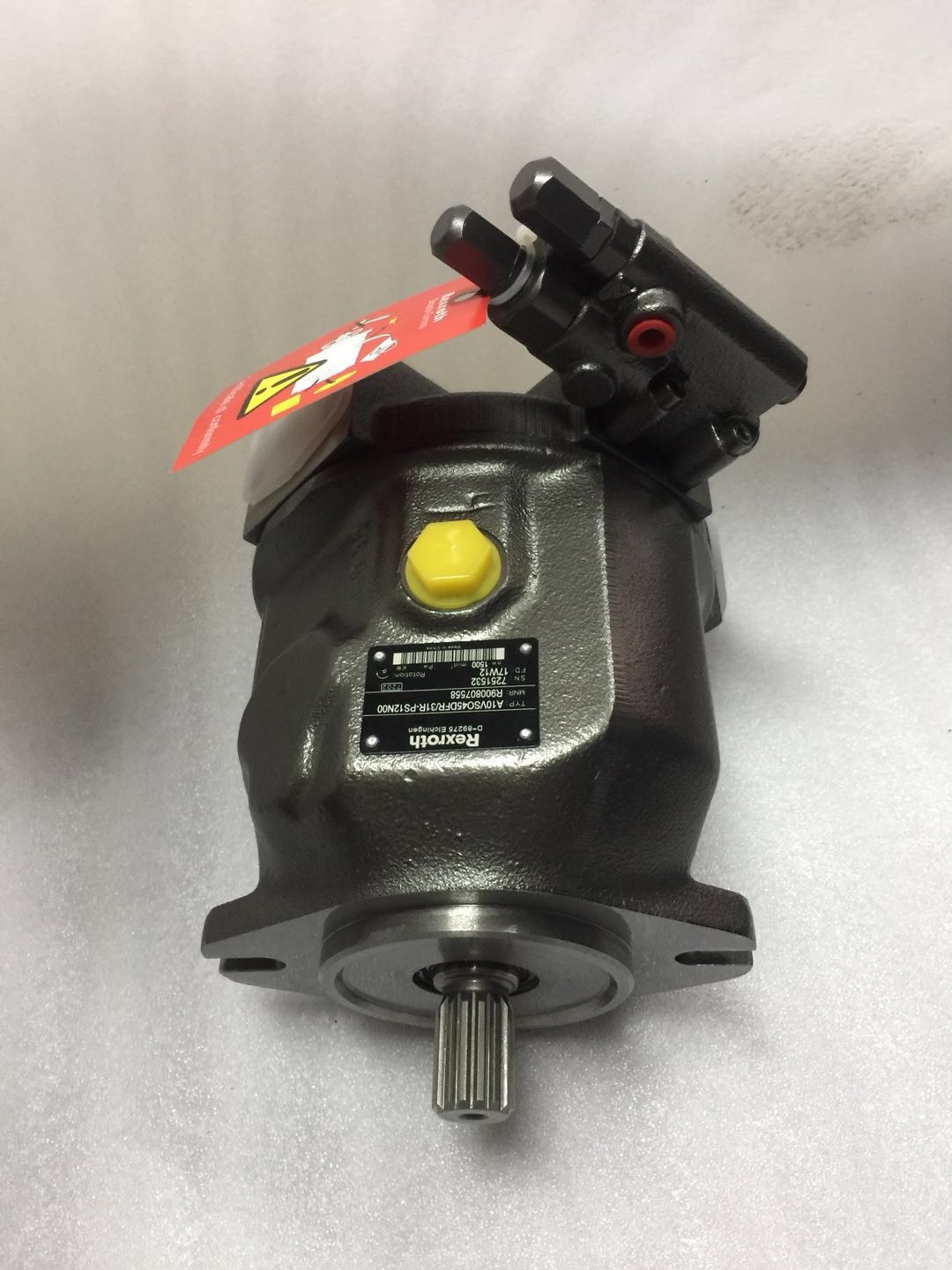 Leader Industrial Manufacture Co.,Limited. is a professional agent of foreign brand plunger pumps and hydraulic pumps. It mainly deals in Resroth,Yuken,Daikin,Nachi,Vickers,Sumitomo,Tokimec,Uhida,Yeoshe,Dension, and other European and American brands of original oil pumps, pump cores and accessories. Leader Industrial is committed to providing professional suppliers of hydraulic machinery equipment and accessories.It is widely used in injection moulding machine, die-casting machine, oil press, ship machinery, construction machinery, concrete pump truck, mixing truck, construction machinery, rotary drilling machine, bulldozer, loader, roller, paver, crane machinery, forklift, coal mine machinery, port machinery, oil field machinery and other heavy engineering machinery series.
Main products of the company:
1. YUKEN oil pump, YUKEN vane pump, YUKEN variable piston pump and accessories.
2. Wiggs oil pump, Wiggs vane pump, Wiggs plunger pump, Wiggs variable plunger pump, Vickers plunger pump, Vickers oil pump, Vickers vane pump, Vickers oil pump and accessories.
3. Japan Daikin DAIKIN plunger pump and fittings. Variable piston pump and fittings.
4. Rexroth REXROTH plunger pump and accessories.
5. Japan's NACHI piston pump, Japan's NACHI gear pump.
6. Japan Tokyo gauge TOKIMEC (Tokyo America) vane pump, variable piston pump and accessories.
7. Sumitomo gear pump SUMITOMO Japan.
Contact Us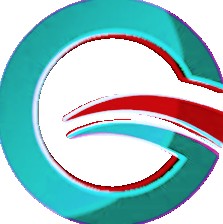 Galat Hydraulic Equipment Co., Ltd

Email

sales2@ldhydraulic.com

Address

No.4850 Guangming new district shenzhen,china

Phone(Working Time)

00852-68515715

Fax